Welcome to the channel of Queendom Gem.
In this article, you will understand the market trends of loose moissanite stones. And as a moissanite jewelry wholesale, we will introduce several moissanite jewelries.
Content
What is the best alternative to a diamond?
Why do we all love Moissanite gemstones?
Moissanite can be a perfect gift.

Moissanite Rings

Moissanite Pendants

Moissanite Bracelets

Moissanite Earrings

Moissanite anklets

Moissanite broochs

Is moissanite worth buying?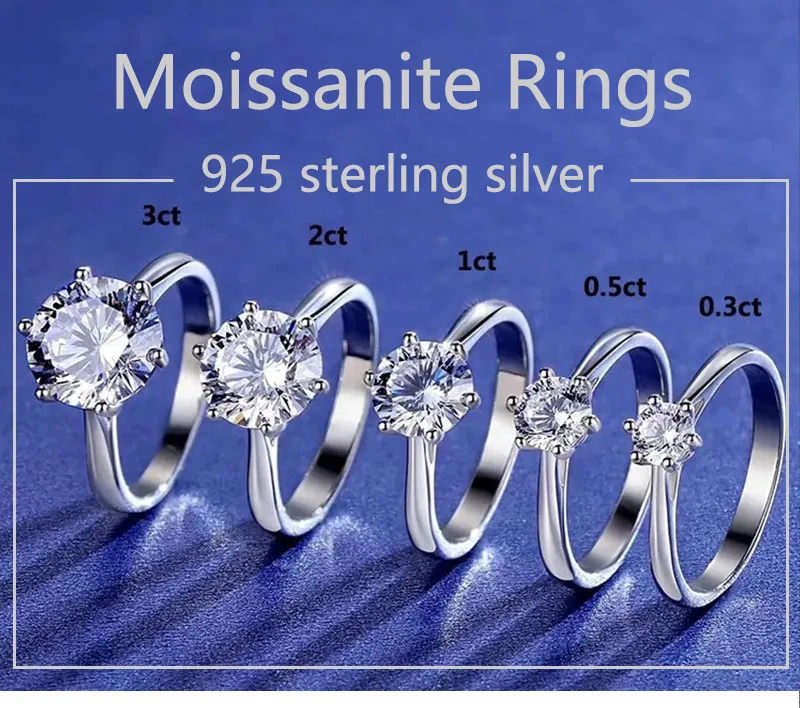 What is the best alternative to a diamond?
Diamonds are one of our most coveted luxury items; however, they can be quite expensive to purchase. If you're looking for something similar but with more affordability and without sacrificing quality then Moissanite may be right for you!
It does not merely match a diamond's beauty or durability, it transcends it. The mesmerizing beauty of its appearance, durability and affordable price make it the perfect stone for any occasion.
Moissanite has many similarities with diamonds including colorless sparkling brilliance with great clarity as well as having high fire which allows it to have an incredible sparkle that reflects light back into your eyes making them shine just like real diamonds do!
Moissanite is by far the most beautiful and brilliant gemstone on the market today.
Why do we all love Moissanite gemstones?

Just like diamonds, moissanite became a classic symbol of love, happiness, and accomplishment. It is a wonderful gem that can possess the brilliance of a diamond
Moissanite is one of the hardest substances found in nature. It has a hardness rating of 9.25 on the Mohs scale. This makes them highly resistant to scratches, chips, and heat. This gemstone also gives off maximum brilliance at a fraction of the cost.
Researchers later learned how to manufacture moissanite in the lab using high pressure and temperature. They also discovered that this stone has some unique properties that make it ideal for jewelry.
Moissanite gemstones come in many different varieties including round brilliant cut, pear shape, oval cut, marquise cut and so on. You can also choose from different colors such as, Colorless Moissanite, Blue Moissanite, Yellow Moissanite, Green Moissanite, Red Moissanite, Black Moissanite.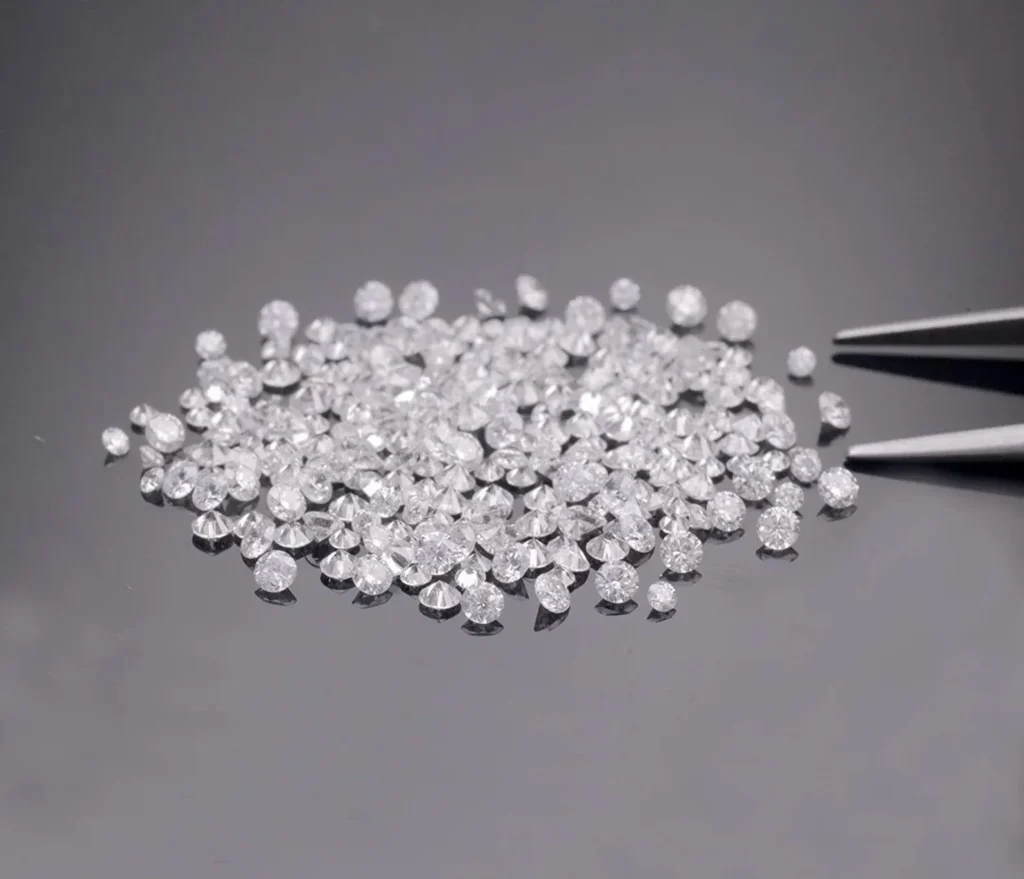 Moissanite can be a perfect gift
A perfect gift for your loved one; this breathtaking stone makes an excellent ring or pendant that can be passed down in your family through generations. Most importantly, wear something beautiful with confidence knowing that it's backed with an industry-leading lifetime guarantee.
When it comes to jewelry, the options are endless. Whether you're looking for something simple or something bold, there's a setting that will make stand out.
Here are some:
1. Moissanite Rings:
Moissanite rings are the perfect way to show off your love for luxury. They're available in a wide array of styles and settings, so you can find a ring that's perfect for your needs.
A ring with Moissanite can make a bold statement that will last for years to come. Whether you choose a traditional band or something more unconventional like an infinity band or a cluster ring, there are lots of options to choose from!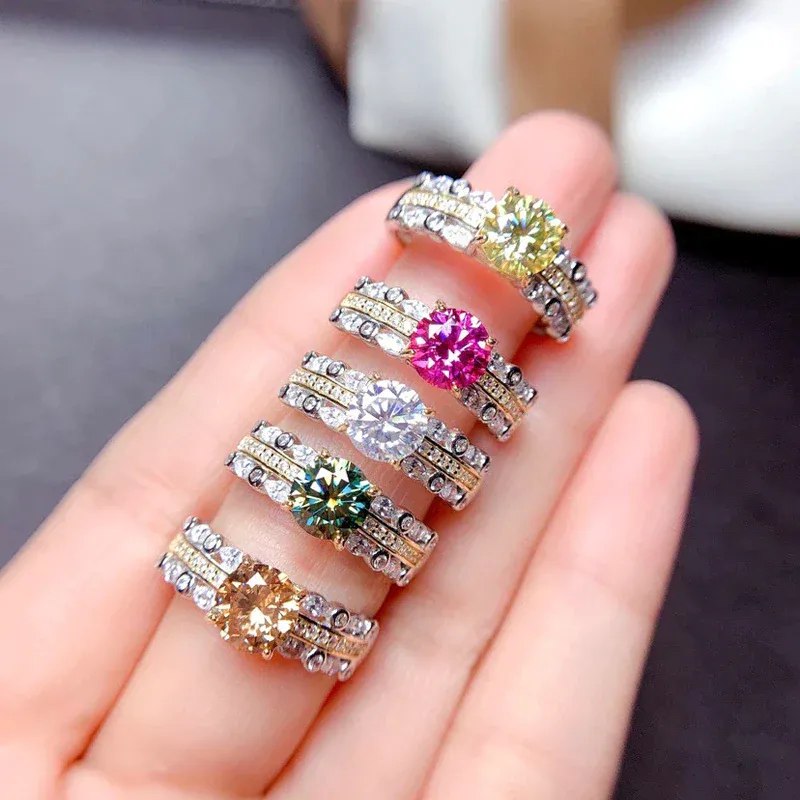 There are so many different styles of Moissanite rings to choose from, it can be hard to know where to start! We've put together a list of some of our favorite styles and settings so you can find a ring that works for you.
Round Cut Ring Moissanite – A classic round cut Moissanite is a timeless choice. It's simple and elegant, and it will never go out of style.
Oval Cut Ring Moissanite – If you're looking for something more unique, try an oval cut Moissanite! These are great for people who want something different than the traditional round cut but don't want anything too unconventional.
Pear Cut Ring Moissanite –A pear-shaped Moissanite is perfect for those who love the elongated look of an oval but want something more petite and delicate than a traditional diamond shape (without having to sacrifice sparkle!).
A Trillion-Cut Ring Moissanite – A trillion-cut ring moissanite is also very popular because it has lots of facets that reflect light back towards the viewer—this means that when you hold it up in front of a mirror or light source (such as sunlight), it will sparkle like crazy! They're often described as having "millions" of facets rather than just one (like other cuts).
Cushion Cut Ring Moissanite – Although it's tempting to think of the cushion cut as a modern wedding option, its origins actually date back to the 1920s. While it's gained popularity once again in today's world, it has always been a classic cut with a great deal of versatility. Most women who get a new wedding ring describe their cushion as something that will hold up for years and can be paired with any number of occasions without ever going out of style. Style, after all, is timeless.
Emerald Cut Ring Moissanite – Emerald Cut Moissanite is showing the best performance on brilliant stone. And it can truly show a sense of natural elegance, which many other brilliant gems cannot be compared to.
2. Moissanite Pendants:
A pendant necklace is an excellent way to incorporate Moissanite into your wardrobe because they are easy to layer and go with just about any outfit! You can even add some fun pops of color with different colored stones or charms that match your personality!
The best part about a pendant is that it's a versatile piece of jewelry. It can be worn on its own or layered with other pieces for a unique look. The pendant can also be worn at different lengths for different occasions. If you are wearing a dressy outfit during the day, then you might want to wear your necklace longer so it doesn't get in the way of your outfit. However, if you are going out at night, then you might want to keep it shorter so that people can see your face better!
Another great thing about pendants is that they are easy to wear! All you need to do is put them on and go! There's no need for any special tools or equipment—just put one on and walk out the door!
3. Moissanite Bracelets:
There are a lot of options when it comes to adding Moissanite to your jewelry collection, but one of the most popular is bracelets. Bracelets are easy to layer with other bracelets or stack on top of each other (if you have multiple).
So, if you love to add sparkle to your outfit, a Moissanite bracelet is the perfect way to do it!
Moissanite bracelets come in an array of shapes and styles including clips, bangles and cuffs. The best part? They are versatile enough to go with any outfit!
If you're looking for something that will make a statement, opt for a cuff style bracelet that will drape around your wrist. If you want something more subtle, go with a bangle or clip style bracelet.
Some examples of moissanite bracelets are:
Moissanite Tennis Bracelet – The Moissanite tennis bracelet is made out of moissanite, which is a brilliant crystal that has many properties that make it ideal for use as jewelry. First of all, this material can be cut into extremely thin plates without losing any of its brilliance or shine. Also, it does not fade over time like other jewelry materials do. This means that your jewelry will look just as bright and shiny after years of wear as it did when you first bought it.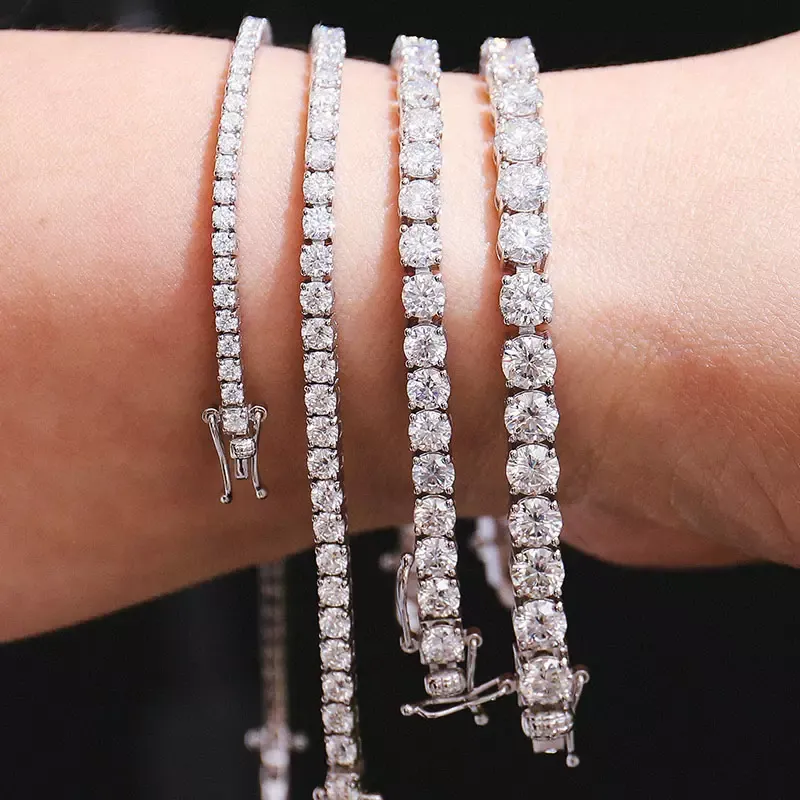 The Moissanite Cuban Chain Bracelet – The Moissanite Cuban Chain Bracelet is a beautiful option for anyone looking to add a little sparkle to their look.
The Cuban Chain Bracelet features a beautiful design with alternating links of chain and flat links, which can accentuate your outfit and add something special to your look.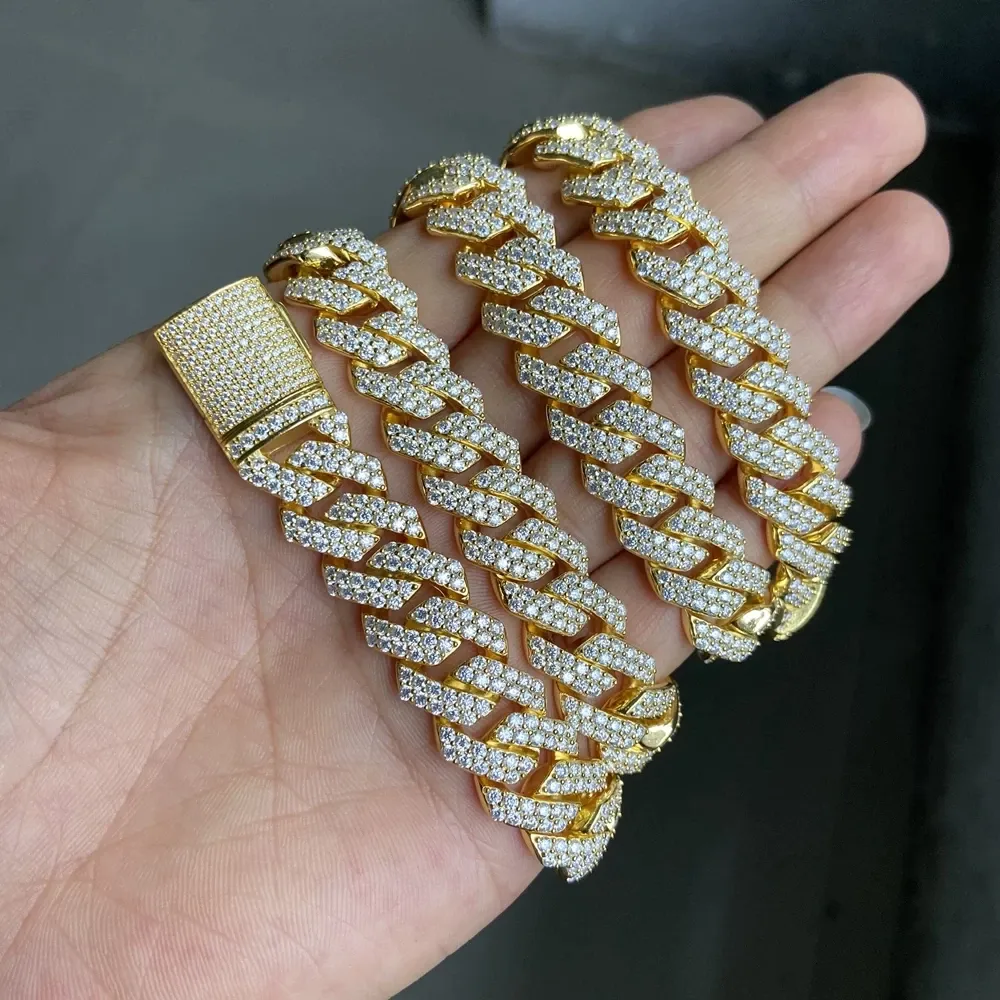 4. Moissanite Earrings
Earrings are the perfect accessory to add some shine to your outfit. They're also the perfect gift for just about any occasion—and Moissanite Earrings are no exception!
Moissanites are available in a wide range of styles, shapes and sizes. If you're looking for something small and dainty that won't get in the way, try a pair of studs—they're the most popular style for women. Or if you want something bigger and more bold, go for a pair of drop earrings or hoops!
Whatever your preference, you'll be sure to turn heads with these stunning earrings made with Loose Moissanite stones! Choose from studs or dangle earrings in a variety of styles including hoops and drops.
5. Moissanite anklets
Anklets are good jewelry to show personality and personal charm, moissanite anklets are very shiny and eye-catching accessories, so very popular with beauty lovers.
6. Moissanite broochs
A brooch is an accessory worn on the chest or collar and can also be considered a decorative pin, adding a touch of sparkle to any outfit. It is generally made of metal with gemstones or enamel to embed on it.
7. Moissanite watches
Owning a diamond-encrusted watch is very great for many people. Some people buy diamond-encrusted watches directly; for example, Cartier and Rolex have such watches. And some people choose to buy a watch and then set diamonds or moissanite. Many people start with a basic model and then find a technician to inlay diamonds or loose moissanite to achieve the visual effect of the high-end model. It is much more cost-effective than buying a high-end model directly.
Loose moissanite diamonds can have more brilliance and fire for a more shiny effect. Whether it is spot moissanite or a "starry sky", the brilliant moissanite watch always attracts attention and makes the wearer easily become the audience's focus.
Is moissanite worth buying?
Yes. Moissanites are extremely durable gemstones. A moissanite should last your entire life without fading or becoming damaged. A moissanite ring will survive a very long period if the setting is made of a high-quality metal, such as platinum or gold.
Nowadays, people wear jewelry more than anything else because it adds grace to their appearance, it is necessary to express their individuality and simply by being there it reminds them that they are special.
It is not surprising at all that moissanite jewelry is becoming increasingly popular with consumers across the globe. It has great looks, durability and its many uses make it an attractive choice for jewelers and buyers alike.
All in all, Moissanite loose stone is a great investment for the money when you are looking for a diamond alternative. It has an amazing sparkle and can be created into beautiful and elegant jewelry which can be admired by thousands of people. If you're planning a budget wedding, loose moissanite diamond could be your best choice.
If you have any questions, please press the button on the right corner to discuss with Queendom Gem experts.